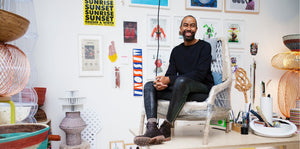 Stephen Burks
Stephen Burks is a designer, educator, and traveler.
Stephen studied architecture at the Illinois Institute of Technology and Product Design at IIT'S Institute of Design, as well as attending Columbia University's Graduate School of Architecture. After years spent traveling between New York and Europe, as well as living abroad in Tokyo & Milan, Stephen became an independent designer at the turn of the millennium, when the famed Italian manufacturer Cappellini put his first pieces into production.
Today, Stephen is one of the most recognized American industrial designers of his generation. Independently and through association with the non-profits Aid To Artisans, Artesanias de Colombia, the Clinton Global Initiative, Design Network Africa, and the Nature Conservancy, Stephen has worked as a product development consultant in close collaboration with hundreds of artisans in Australia, Colombia, Dominican Republic, France, Germany, Ghana, Haiti, India, Indonesia, Italy, Kenya, Mexico, Peru, the Philippines, Rwanda, Senegal, Spain, South Africa, the US, and the UK.