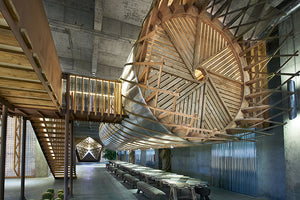 An invitation to a warehouse in the heart of China's Pearl Delta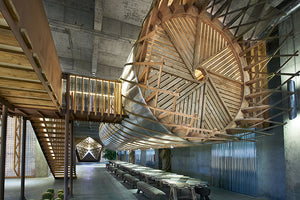 We waited outside a wooden pentagon set into a mundane wooden furniture factory, wondering what was to unfold and that was what exactly happened. The motorized drawbridge lowered, revealing a scene that would be at home in a Jame Bond movie.
Welcome to Sankok and its truely incredible showroom come office come entertaining space designed by Timothy Oulton Studio. 
As you enter the space, the multiple facets are unveiled in a sense of discovery. The lantern office hanging from the ceiling, the 50 seater table, circular glass meeting room and a glimpse of the bar positioned in front of an undulating reclaimed brick wall.
The pièce de résistance is the Lantern office, perched above the warehouse space, you enter through an automated occular door into what can only be described as a haven. Furniture factories make a lot of noise and this has to be the ultimate respite. If only we could to turn our offices into something similar....