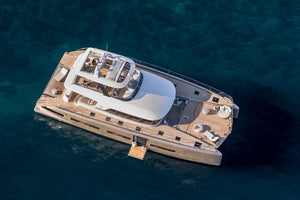 Luxury at sea with Tribu outdoor furniture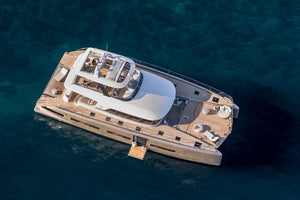 An elegant profile, sleek lines and a fine balance between technical perfection and beautiful design sum up the new Lagoon Seventy 8 motor yacht and the description works just as well for the Tribù outdoor furniture chosen to give the decks and salon a look of warm sophistication.
Tribù's Tosca collection, as luxurious as it is comfortable, adds an intriguing visual twist to the subtle coffee-and-cream design scheme. Just as every element on the yacht is worked out to the last detail, so each piece of furniture has to earn its place by being functional, durable and a pleasure to look at.
Lagoon sought some of the great names in naval design to create its stunning new flagship catamaran: the young French team at VPLP, Frenchman Patrick le Quément and Milan-based Nauta Design. Their ingenious concept allows for chic living areas that open onto wide spaces for sunbathing, relaxing and entertaining.
The Tosca collection works beautifully both inside and out, with a Tosca Dining Table and Armchairs in the main salon, opening onto a covered deck with more Tosca Armchairs. The oversized weave of the Tosca Sofa and Club Chairs, paired with Branch Low Tables, as well as the circular Daybed and deeply comfortable Lounger, are soft to the touch yet tough enough to withstand sea spray and salty breezes.
Tosca's designer, Monica Armani, created the smoothly curved dining table using ceramic laminated glass, a specialised technique that leaves a unique, softly clouded surface pattern.
Nomad poufs create a relaxed seating area wherever they are placed and a teak lantern adds a gentle glow as the light fades on a scene of design harmony between Lagoon Seventy 8 and Tribù.